In 1970, over 200 visionaries left San Francisco on a quest for a new way of life that would establish a stronger connection to the values of humanity. A powerful element in this voyage of discovery was the belief that the sanctity of birth should be returned to the family. Birth was regarded as a natural and fulfilling experience that empowered women and bonded the family together.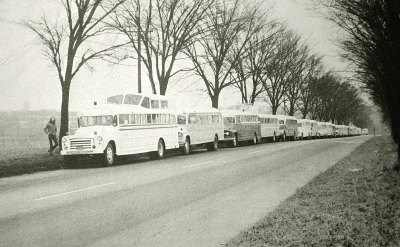 The first births took place in school buses parked at various stops as the group traveled across the country. In all 11 babies were born on the road. Right away it became apparent that those attending the mother and baby  carried a responsibility that was not to be taken lightly, and that knowledge and training were necessary to manage common complications of birth.
The Caravan came to a  stop on 1750 acres in Middle Tennessee, to become The Farm Community. Spiritual seekers and cultural revolutionaries came from all across the world, growing from the original 200 to over 1200 people. As the members of the counterculture found themselves ready to settle down and start families, from 1971 to 1980, over 2000 children were born, delivered by the community's midwives.
In 1975, the community published the book Spiritual Midwifery, a collection of birth stories written by the mothers of The Farm, collected and assembled by the midwives. It quickly became one of the most popular titles by the community's Book Publishing Company, selling over 500,000 copies and was eventually translated into 12 languages.
A DVD interpretation of the book was produced in the nineties, using video recorded of deliveries that took place in those early years of The Farm. The video also contains interviews of Farm midwives speaking on topics such as dealing with fear, the power of strong relationships, and love.
In order to help pass on the lessons learned to a new generation of aspiring midwives, in 1995 The Farm Midwifery Center began offering one week instructional workshops and classes. These grew to include advanced instruction for practicing midwives and training's to supply Continuing Education Credits (CEU's).
People from around the world, including both lay midwives and nurses, doctors and medical professionals, have come to The Farm Midwifery Center to learn about its unique outlook on childbirth, and to have their babies delivered in the peaceful, loving atmosphere and professional care of The Farm midwives.